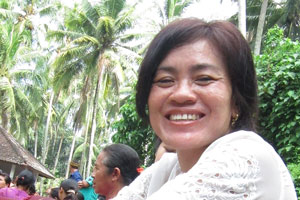 Kompiang Wati
Born and raised in the village Gulingan at Mengwi, I was long in the service of the royal house of Mengwi - even during school time. After only knowing Gery for three months, I accompanied him to Austria, where we got married in November 1987. Daughter Chandra Devi was born in 1988 and son Mahendra Michael was born in 1992. Chandra got married in early 2011 and grandson Alexander (Eksan) was born in August.
I take great pride in participating in all essential in all areas of our lives and business. My main role is to ensure that guests are supplied from the villas with exquisite Balinese food.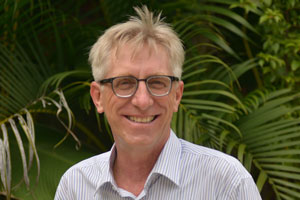 Gery Nutz
Already at age 19, I was called to explore and travel to exotic locations. It started with a four months car tour of Afghanistan. However my curiosity was only piqued . On other trips, I ventured to Pakistan, India, the Himalayan region, Sri Lanka, Malaysia, Indonesia, Java and Bali. Friends at home asked for exotic souvenirs, and so trade originated with jewelry and textiles. 1984 brought me to enter into jewelry production in Bali and allowed me to stay. What an island! The landscape, nature, people. I was so busy soaking it all up that I almost forgot to fulfill the orders. I then started to focus on learning the local language and culture.
1988 asked me a youth friend to help out as a tour guide. On April 18, 1988, I led the first "Classical Bali Tour" to Batu Karu jungle temple. A one-time presentation turned into my life's work.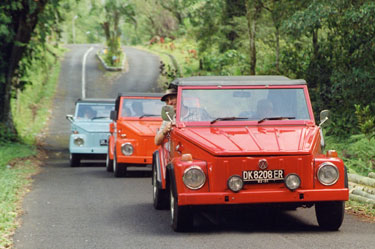 Our Philosophy
Since 1988, the popular excursions are organized with the legendary VW (THING) multi purpose vehicle headed by Gery.
Off Road Experience.
The most interesting areas of Bali are difficult to access, the roads bad and therefore not accessible by any vehicle - the idea was born to use the popular VW jeep for the tours away from the main tourist routes.
In addition to the choice an original transportation vehicle we provide the detailed information and security needed. The trained drivers and well trained English speaking guide will provide you, the traveler, a slightly different perspective of the island of Bali.
Thanks to the openness of the car, the passenger will get to feel closer to the experience, yet in a safe environment. You will travel through quaint villages and rice landscapes as far as the eye can see. Above all, the country will immerse you in it's immense unforgettable visual diversity and the intense and sometimes subtle exotic smells of the various environments explored.
As your host, I like to have almost every dinner with my villa guests, to banter and to talk about our interesting life on Bali. It will truly give you a deep insight of local life. Of course, you can share your experiences and thoughts about your life. Something will be shared and learned by all of us, giving all of us more understanding of our varied cultures.